All assessment data that isn't collected by the pods is recorded in Info.
Activity Info, Notes, and Labels
All the metadata recorded for the assessment can be found in Info. This includes a summary of all applicable metrics, any notes entered following completion of the assessment, the activity type, Pain and RPE ratings, environment and surface labels, and survey results. These fields are typically filled in directly following the assessment but can be edited or updated in the Info view by clicking on the Edit button.

After clicking the Edit button, you can also change the activity start time and activity end time to trim unwanted data from the activity or capture any data missed due to device time or data collection issues.

Extra Files
A CSV file, or plain text table, of the sensor outputs for each pod can be downloaded from the Info page by clicking on the Generate CSV button, then on the download button when ready.
A Movement Map, or movement signature visualization for walks and runs, can also be downloaded from the info page by clicking on the Generate Movement Map button, then on the download button when ready.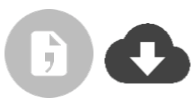 External files related to the assessment, such as videos or training plans, can be uploaded and associated with the assessment by clicking on the UPLOAD button.

How to use the Info page
All of the data and files on the info page can be used to add context to the assessment data. Looking at surface labels, for example grass versus turf, could help to explain speed differences between two similar runs. Two jump sessions with different RSIs may be related to the person's reported RPE. External video data uploaded of a walk session can help add detail to the type of asymmetry the person is experiencing. Each category is useful in interpreting and making decisions related to the assessment data, especially when reviewed as a whole.
The downloaded assessment CSV file also allows the assessment data to be integrated into other athlete or patient managing programs you may be using.